A Tribute to Kirsten Dunst
By Meredith Fuentes
On August 30th, Kirsten Dunst was honored with a star on the Hollywood Walk of Fame for her achievements in the film industry. The news came as somewhat of a surprise to many despite Dunst's extensive and influential career of 30 years.

At the Walk of Fame ceremony, Dunst talked about not thinking she would ever be honored in this way or be a part of film history. Her humility and sweet demeanor along with her strength and confidence create a combination worth admiration. In a recent interview with Sirius XM, she discussed feeling constantly overlooked and under-appreciated by the public. This was proven true just moments after being honored on the Walk of Fame.
Shortly after receiving her star, Reuters Top News' Twitter account shared a controversial tweet –-that has since been deleted–-claiming Dunst was best known for being Spiderman's girlfriend. SPIDERMAN'S GIRLFRIEND? You have to be kidding… While her performance in that franchise is iconic, Dunst's resumé is filled many more noteworthy roles and cult classics! To summarize her career with the title "Spiderman's girlfriend" is not only sexist, it is the dumbest shit I've ever seen.
Even 19 years later, the staying power of her starring role in "Bring It On" shows in the reaction to Rodarte's 2020 lookbook. The campaign's shots of the film's co-stars, Dunst and Gabrielle Union, lead to a trending Twitter moment praising the actresses for truly bringing it in the realm of high fashion. That alone should be enough to recognize that Dunst is MUCH MORE than just Spiderman's girlfriend.
Now that we're on the subject, let's start with "Bring It On". The franchise made SIX MOVIES with different storylines. Dunst was one of the stars of the ORIGINAL movie made in 2000 that started the series and influenced all of the films up until the most recent "Bring It On" movie made in 2017. Not to mention the fact that if you have not seen the movie, you've definitely seen the costumes on Halloween, and if you have no idea what I'm talking about, then I'm sorry to say you may be living under a rock. "Bring It On" has helped define pop culture this millennium (so far) and has created a huge impact since the moment it came out.
(Image courtesy of IMDB/2000)
Next I would like to bring everyone's attention to "Marie Antoinette". This movie came out in 2006. I know this because I was six years old when my mom bought it on iTunes and it automatically downloaded onto every device in the house. Like most people, I didn't appreciate the movie until many years later. "Marie Antoinette" got little publicity or rave reviews at the time of its release and yet, it is now regarded as an amazing coming of age story and a true classic. Sofia Coppola, the film's producer, was one of the people Dunst asked to speak at the Walk of Fame ceremony.
(Image courtesy of Rotten Tomatoes/2006)

Drop Dead Gorgeous (1999)
Speaking of underappreciated classics, let's talk about "Drop Dead Gorgeous". This film starring Dunst came out in 1999 and was the breakout role for Amy Adams. The movie, however, proved to be ahead of its time. While Adams garnered widespread attention, many people found the film offensive or crude, and it was a complete flop at the box office; as a result Dunst's performance was largely overlooked. "Drop Dead Gorgeous" now, however, is regarded as a cult classic! Dunst has repeatedly given us more of a performance than we deserve and many have thanked her by overlooking and in some cases, even ignoring her talent.
(Image courtesy of Hulu/2019)


I don't have time to explain how amazing Dunst is so some of the work you're going to have to do on your own. To to spark your interest and get you started down the rabbit hole, here are a few more iconic films featuring Dunst: "Jumanji" (1995), "The Virgin Suicides" (1999), "Eternal Sunshine of the Spotless Mind" (2004), "Bachelorette" (2012), "Hidden Figures" (2016) and SO! MANY! MORE! Do yourself a favor and look them up ASAP!
Dunst's TV acting is not nearly as extensive as her film career, it is still noteworthy. If I am being honest, the entire reason I wrote this article is just so I can talk about her role in the second season of the critically-acclaimed TV series "Fargo".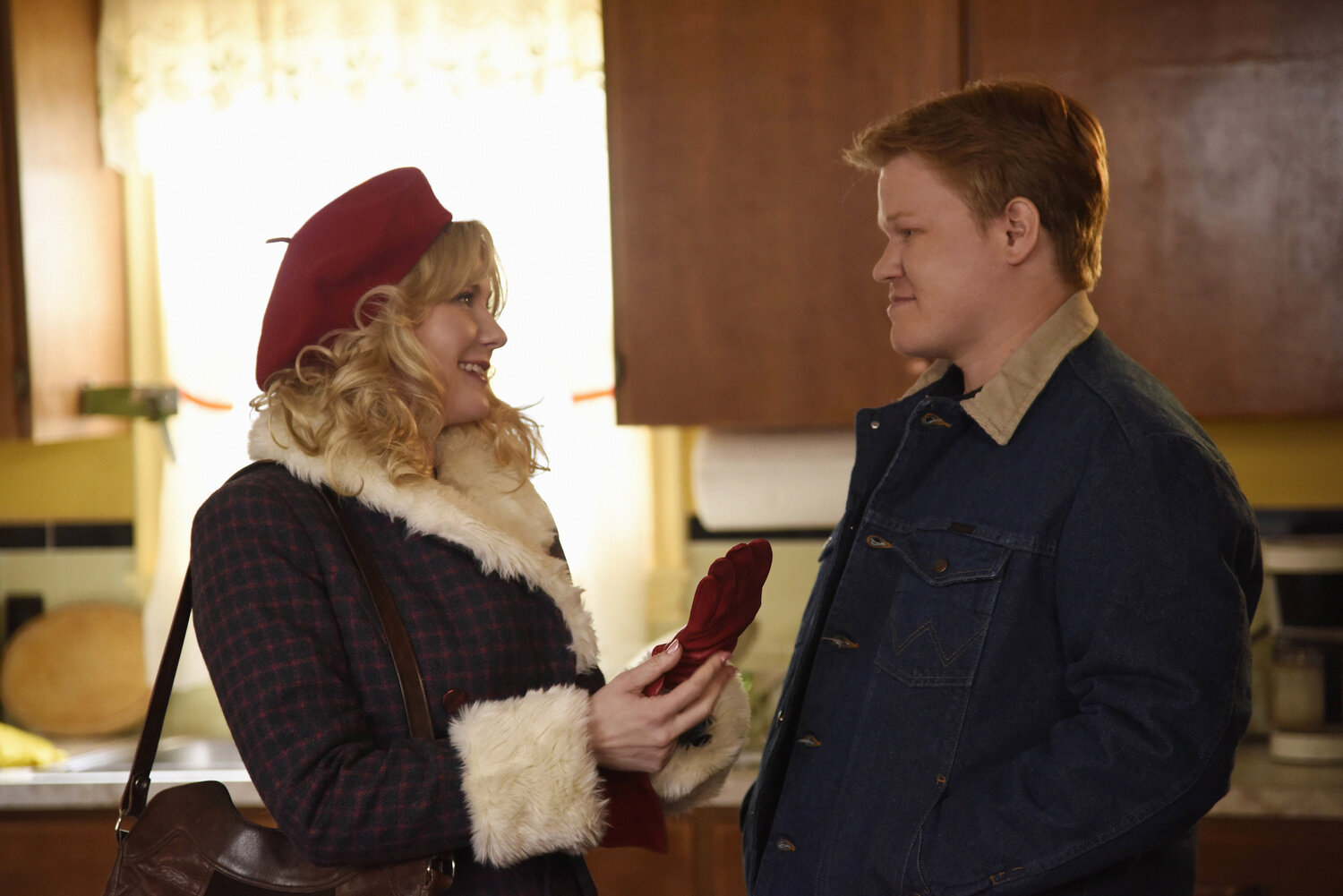 Dunst played a small town beautician in the 1970s who dreams of a life that is bigger, better and different than the one she has in Minnesota. Her performance is complemented by Jesse Plemons, her now real-life fiancé, who played her devoted husband and town butcher eager to settle down and start a family. (By the way, Plemons's speech at the Walk of Fame ceremony is so sweet and worth watching–especially since the two met while filming "Fargo").

In "Fargo", Dunst portrays a woman who is unsatisfied with the role society has written for her. She represents so many women who feel "faulty" when they cannot find a way to "have it all" and still be happy. Her storyline may not be where all of the violence is (a huge part of the show's appeal), but the revolution of the action around Dunst's character brings attention to a side of the show that is rooted in feminist ideals and female empowerment. "Fargo" is one of my personal favorite shows and Dunst is a huge reason why.
(Image courtesy of IMDB/2014)
Dunst is a cultural icon, a caring mother and wife, a strong beautiful woman and a truly fantastic actress. As movie lovers, TV fanatics and human beings, we need to give her and her career the respect and adoration they deserve.

If you came here looking for a recommendation on new Dunst content, please check out "On Becoming a God in Central Florida" on Showtime!